Muscat: Starting in 2002, Muscat Eye Laser Center has touched and improved the quality of life of more than a hundred thousand patients, besides conducting thousands of successful surgeries, in its journey of 19 years.
Being based in Shatti Al Qurum and Al Mawaleh North, the premier eye laser centre is known for its international standards of quality and safety in the field of ophthalmology and surgery with an expert team of world-leading Omani and expatriate surgeons.
The centre provides patients with eye care, delivered in a professional and personalised environment, in the specialities of laser vision correction, treatment of corneal diseases, cataracts, retinal diseases, glaucoma and other procedures. It also has a special department for paediatric ophthalmology. Over the years, the centre has become synonymous in Oman and the world with proven surgical results.
Speaking on the occasion of the 19th-anniversary celebrations, Sameer Al Awam, CEO, Muscat Eye Laser Center, said, "It is our earnest endeavour to make patients feel comfortable and confident that they will receive eye care of the highest quality. We are committed to providing our patients with a value-added experience and building a strong relationship with them that their needs are met professionally while being fully informed of the diagnosis so that they understand the nature of the treatment they need."
Muscat Eye Laser Center is the only centre accredited by the Oman Medical Specialty Board to train Omani licensed ophthalmologists, on a mandatory learning path. Thereafter, they can practice the profession of ophthalmology in hospitals, or private and government centres, under the supervision of the Ministry of Health.
Over the years, Muscat Eye Laser Center has been keen to acquire the latest medical equipment, to provide better comprehensive care. The centre boasts of advanced diagnostic and therapeutic equipment, conforming to the latest international specifications.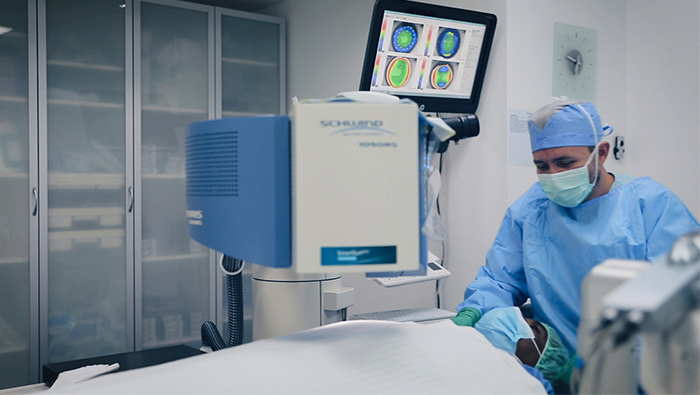 The centre added the highly accurate Schwind Amaris 1050 RS automated machine, to its list of medical facilities, being the first centre in the Sultanate to do so. With its repetitive rate of 1050 hertz and unique 7D eye tracking, it offers unmatched speed, precision and safety for laser eye surgery, to set new standards for corneal and vision correction surgeries in the Sultanate.
With world-renowned achievements and extensive contributions to the field of ophthalmology, the team has the expertise to handle the most complex eye conditions that may not be treated elsewhere.
As part of its social responsibility towards the Omani society, Muscat Eye Laser Center has created a special section for patient assistance services to consider requests and the possibility of aid and payment facilities through interest-free instalments, in cooperation with local banks.
Muscat Eye Laser Center gives great importance to the continuity of research and development, and to follow up on published scientific studies. In an effort to always provide the best, the centre keeps pace with the latest and world-leading treatment methods.
Muscat Eye Center has achieved international accreditations such as the ISO 9001certificate for quality, and the Australian Council on Healthcare Standards International (ACHSI), the only eye centre in the GCC region to do so.
Awards
In recognition of their services, Muscat Eye Laser Center has won several prestigious awards such as Leading Eye Care Center 2020, The Best Eye Care Provider 2020, Most Recommended Eye Center in Oman 2019, Life Changers in Eye Care Award 2019, Oman's Most Trusted Brand 2017, 2018, 2019; Best Specialised Clinic in Oman 2019, Eye Care Excellence 2018, Oman's Best Clinic 2016, Oman's Best Doctor 2016, among others.
During the COVID-19 pandemic, the centre has been offering modern services, including virtual clinics and online consultations for patients across Oman.
Muscat Eye Laser Center is known for its wide interaction on social media. As the centre celebrates 19 years, it looks towards the future with confidence and determination to achieve its vision and mission, for 'life is better... when you see better.'