Muscat: The sprawling ground of Naseem Garden is almost primed to perfection and the magnificence of Muscat Nights can be seen right from the main entrance. Decorative lights illuminate the alleys that lead to the different venues of the festival. Men and women, clad in their traditional attire, can be seen in groups, dancing to the familiar folklore melody in perfect rhythm. The cyclical and repetitive beats of the drum reverberate in the air.
As you glance around you can see several vendors with their carts trying hard to woo the children. For those who are not aware, Naseem Garden has always been the hub of cultural activities and family events that were held as part of the Muscat Festival before and it is no different this year as Muscat Nights. While the Heritage Village aims to give a mirror view of the Arab culture, the handicraft stalls are attracting tourists for its timeless appeal and elegance.
Carpets and handmade items found in bright colours, fine designs and unique texture are quite an attraction. Being quite oblivious of the people visiting their traditional stall many Bedouin women can be seen weaving magic with their dexterous fingers. With their faces covered with traditional beak masks they are busy at their work, heedless of the passers-by. But the moment they see you hanging around near their stalls, they get extremely gracious and draw your attention by their welcoming gesture. If you are not well versed in Arabic, language would be barrier. But then for these enterprising women their work says it all.
Handicrafts
Pure classiness can be seen in the handicrafts, skilfully done by the artisans. There hand woven items represent their traditional lifestyle and offer a kaleidoscope view of their rich culture. Traditional products are at display including handicraft items, chandeliers, copper and silver plates, jewelleries, jalebiyahs, shawls, carpets, handmade bags and other accessories.
From key chains, mobile phone holders to traditional homemade cosmetics; their stall is indeed a treasure trove for those who have an inclination for traditional handcrafted items.
The main intention of putting up these stalls is not for the commercial purpose, but to showcase traditional handicraft of Oman and provide a platform for the artisans who come from different parts of Oman to participate in the festival.
"We enjoy coming here, not because of the monetary gains but because we get to meet so many people here," said one woman when asked about her business. "We like people coming to our stalls and appreciate our craftsmanship. So we actually do not feel bad even if our products do not sell as per our expectations," she added. The stall also displays a wide range of homemade beauty products of which facial creams, authentic and traditional eyeliners and henna are there to name a few.
With splashes of colours all around the stalls indeed reflects creativity and imaginative skills of these gifted women.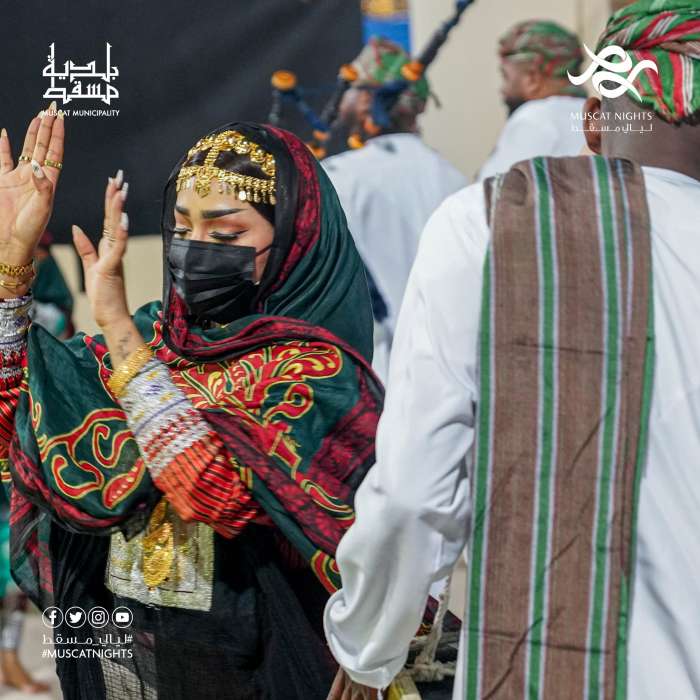 Ensconced in one corner of the venue are bakhour sellers and the scents waft in the air. Enthusiastic sellers manning small shops selling toys, artificial jewelleries, traditional cosmetics can be seen eagerly waiting for the customers, which perhaps will escalate in the days to come.
Food Counters
After going on a shopping spree as soon as you decide to exit the venue the aroma coming from the live food counters will compels you to head straight to the food section to try out some of the delicacies on offer.
Wearing traditional and colourful clothes, a number of women can be seen preparing and serving the food. They have travelled from different governorates of Oman, to offer a variety of delectable traditional Omani dishes to the visitors and are keen on ensuring that their offering is of highest quality.
Omani bread is in huge demand because of its nutritional value and unique taste and is very popular in the Sultanate.
There is Omani bread with various additives, such as cheese, egg and honey.
Every dish is available and served in a way that displays their skills and taste and that is what sets each dish apart from the other.